Since 1979 the fire department runs a junior fire program. The main issue of this program is to get new firefighters for tomorrow. At the Age of 10 years boys and girls start to learn how to handle the equipment and different firefighting proceedings. But that´s not the main in the junior program, we visit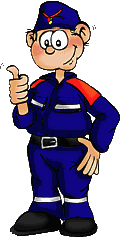 the professional Fire-department stations, Airport Fire department or we play miniature golf. Table tennis and the most popular sport in Germany soccer, too. Furthermore we go swim (every Firefighter get free entrance in every public swimming pool).
Every three years there is a camp with all junior firefighters from Hannover, this year in Landl/ Austria for 10 days.
At a age of 15 the boys and girls start to train with the "real" firefighters. They meet the team the first time and start to learn more about firefighting. With the 16th birthday the boys and girls are allow to be a member in the operating firefighting team.
Do you want to be a member of our junior fire program? And you are between age 10 and 16? Visit us at the Fire Station (Lange-Hop-Strasse 108). We meet every Monday (except in school holidays) at 5.30 pm. You are very welcome!
Are you interested or do you have any questions, please mail to This email address is being protected from spambots. You need JavaScript enabled to view it.or just meet us every monday 5.30 pm at the Station (Lange-Hop-Strasse 108, Hannover)